Testimonials
It was such a pleasure to watch my daughter's best friend get married here. It was truly magical
Maria Maltese Gould
---
Excellent experience! It seemed like they'd thought of everything, and despite a PACKED attendance, nothing ran out. The one improvement I'd like to see is a parking attendant. By the time we got there, it was hard to find a place to park, but only because the cars had been parked so very inefficiently. An attendant could easily have directed the parking in a way that made it much easier to fit everyone in.
Matthew Hurley
---
The Gin is the most beautiful & unique venue! When we toured it, we knew immediately it was the place we would get married. Our experience was wonderful. Laura, Carly + all of the staff are amazing to work with. Carly was the best and answered my many questions throughout the planning process! They really go above and beyond & allow you to make your wedding a dream come true. Between the venue details, the views, outdoor area, bride and groom suite - everything is just perfect. So many of our friends & family couldn't stop talking about how much they loved our venue. The Gin is very special to us and we couldn't have picked a better place for wedding day!
Kelsey Dillard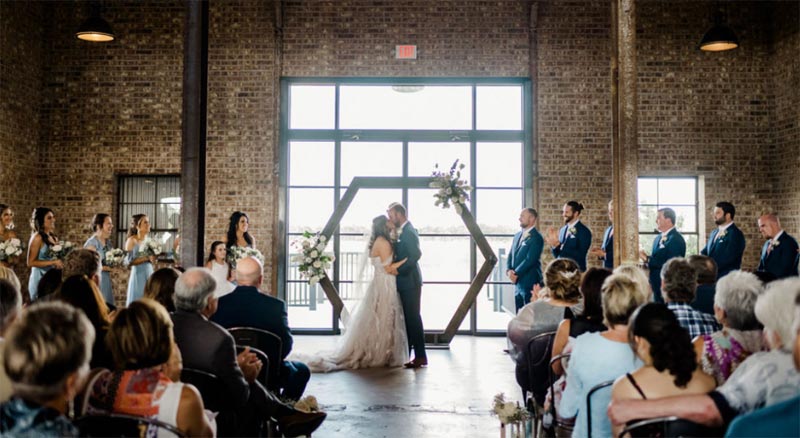 ---
Our experience was amazing at The Gin!! We rented it for the whole weekend & it was literally perfect. We had the best weekend & everything was so beautiful!! The owner Laura, manager Carly & staff are phenomenal!! Could not have picked a better venue for our special day
Leisa Drgac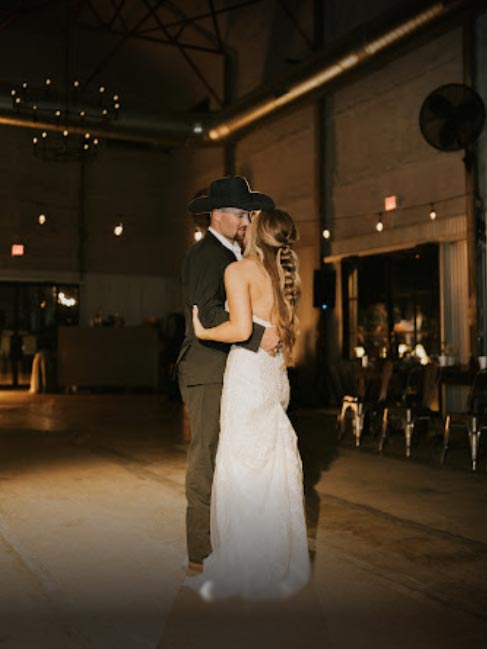 ---
Beautiful venue, AMAZING staff! Do yourself a favor and pick this as your place to say I do!
Katlin Nelson
---
Absolutely awesome place for venues. Clean, well maintained, beautiful landscape and a grand idea to convert an old cotton gin into a venue. I was amazed
Jonathan Eaker
---
Such a beautiful casual venue. The bride and, more importantly, the bride's mother were very happy with the staff and total experience.
Rene Titus
---
The Gin is such a beautiful unique venue with a mixture of rustic and industrial! The Gin was my #1 venue that I had to tour when looking at venues and I fell in love with them! They have so many unique features through out their location from the silos, to the wonderful ceremony grounds, to the fields and cotton fields around the venue. Till this day our guest can't stop talking about our venue and even say it was one of the best wedding venues that they have been too! All of this couldn't of been possible without Laura, the fabulous owner and Carly, the amazing venue coordinator! Carly seriously was the best to work with and was so helpful with any questions we had during the planning process. The Gin is hands down an amazing unique venue that lets allows to you create the wedding of your dreams.
Jeanine Putnam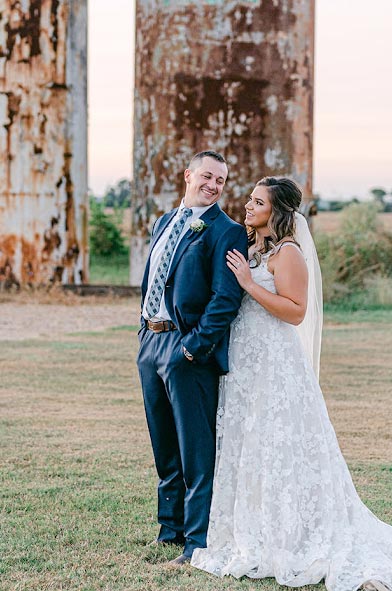 ---
If you are looking for somewhere unique to have your wedding this is the place! My husband and I fell in love with the Gin the minute we stepped out of the car. This place give you a mix between rustic, industrial, and outdoors- as if that is even possible! They truly care about their couples. Carly, Venue Coordinator, is also the bomb! She helped us find vendors with their preferred vendors list, continued to check in during the planning process, and most importantly was always very honest when I had questions or wanted to bounce ideas off of her! The other staff at the Gin just makes you feel like family.
This place made our dreams come true and I can't thank them enough for the beautiful venue and the amazing staff that they have!
Ashley Franklin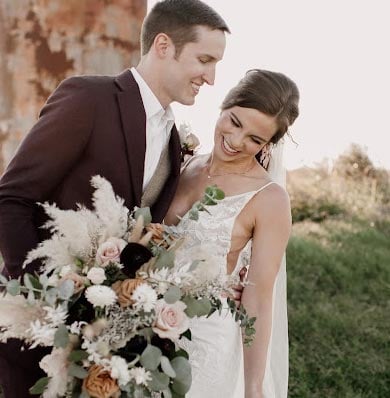 ---
Beautiful wedding outdoors in the country on a perfect day. Had adequate indoor seating for the reception and a dance floor in the center. Really enjoyed ourselves.
Leon Claypool
---
Wonderful staff and beautiful wedding accomodations! Very lovely place.
Kathleen Holmes
---
What a great venue. Attended and wedding and reception. Plenty of parking and beautiful facility.
Randall Pitcock
---
The Gin was absolutely stunning and made our wedding dreams become a reality. The staff was incredibly helpful and easy to work with throughout the whole process. The Gin is truly a unique venue and our guests could not stop talking about the beautiful qualities of the venue. The whole experience exceeded our expectations. Thank you to The Gin for making our wedding day so special!
Brandie Guice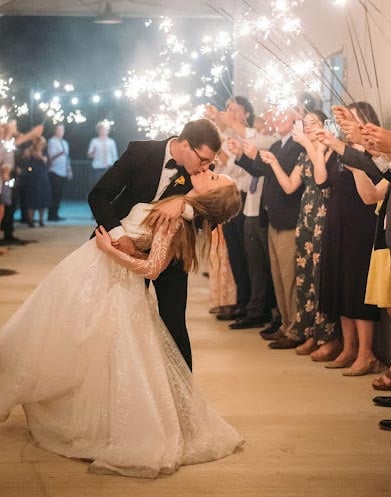 ---
All i have to say is......incredible. The natural light the venue gives is phenomenal. The textures in this venue gave me the perfect mix between soft boho and garden vibes. The simplicity, but character of the place is unmatched. The SPACE is perfect. We had a large number of guests, plenty of tables, extra space for buffet, bar, photo booth, and hangout room PLUS a massive dance floor. The outside ceremony option is so nice and simple with the fields in the background. Also, the benches that come with the venue are STUNNING. The venue has a massive porch, perfect for cocktail hour and for all of our guests to go out and take pictures of the sunset with the sunflowers in the back. I could go on and on about this venue. And might i add that the management is incredibly helpful and willing to make your dreams come true!!
Colleen Janecek
---
Beautiful wedding venue in Brazos county. They also accomadate other events, i.e. corporate events, holiday parties, quinceanera, etc. The venue has a very unique history.
B Frasier
---
We decided on The Gin at Hidalgo Falls less then a month after we were engaged. We fell in the love with it and knew this was the perfect venue for us. It's so unique and absolutely beautiful with amazing views. Everyone was great to work with and so accommodating. Our wedding was perfect!
Kaitlyn Hathcox
---
Gorgeous venue in the middle of no where. Love the fields, love the venue itself.
Francisco Alvarenga
---
Nice place, cool reuse of a piece of history. Plenty of room.
Brad Vollmar
---
My wedding was January 3rd, 2021 and I have to say, I don't ever write reviews, but the location, staff, venue aesthetic was just amazing!! My wedding went so smooth with the support of the staff setting up the tables and chairs in the layout my wedding planner and I decided on as well as breaking down the tables and chairs at the end of the night. I cannot thank them enough for being available and super helpful! Not to mention the onsite bridal suite, grooms suite, and seed cottage had towels, coffee available, water in fridges, showers, etc. basically everything we needed to stay the night at the venue.
Meranda Easter
---
The Gin at Hidalgo Falls is FABULOUS!!! We had a NYE party/wedding and the staff goes above and beyond to make everything perfect for your special day! Laura, Carly and Zeus are the kindest, sweetest people and you truly feel like your working with family! The venue is beautiful and very well taken care of down to every little detail of everything being perfectly in place and neat. We decided to stay the night in the additional houses with some of our guest and they are stunning! Everything you could possibly need is available for your use. They have thought of everything to cover your needs! We will be renting The Gin again in the future for parties and are so happy we found this beautiful gem!
Leslie Marroni
---
I had my wedding at the Gin at Hidalgo Falls on July 3, 2020. Everything about the Gin is absolutely perfect. The venue is beautiful all on its own and the bride/groom suites are to die for. From the first time we stepped foot in the venue, we knew it was the perfect place for us and our wedding. The location is so peaceful and secluded. We decided to have our overnight accommodations in College Station. The 25-minute drive was not an issue at all. All of our guests still can't stop talking about how amazing the venue was. We were lucky to have sunflowers surrounding the property due to the time of year. They made for a beautiful backdrop! We decided to have our ceremony in front of the two old silos rather than the traditional ceremony site and it was a huge hit with our guests. The Gin at Hidalgo Falls is so unique and unlike any other wedding venue. It is also priced well! Laura and Carly were so sweet and helpful during the planning process and wedding day. I loved the All Seated program that allowed us to easily design our wedding layout with our coordinator. Overall, our wedding day was absolutely perfect and better than we had ever dreamed, even with COVID! I would 100% recommend The Gin at Hidalgo Falls. A huge thank you to Laura and family!!
Cynthia Weimer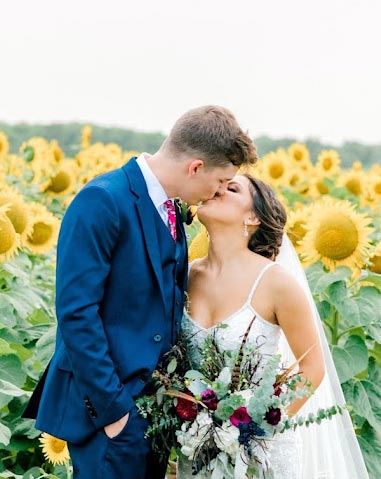 ---
I had my wedding at the Gin at Hidalgo Falls on June 27, 2020. Even amid all the Covid craziness, it was incredible! I was originally set to get married there on May 16, 2020. After hearing about all the venues that wouldn't allow their brides to reschedule, I was worried. However, within minutes of texting Laura, she responded saying that there would be no date change fee. Shifting the date to June 27 was SO easy. Laura and Carly have been so accommodating, and really made this experience so much better for us. The Gin is also BEAUTIFUL and the layout is really conducive to events. The bathrooms, grooms suite, and bridal suite were all perfect. The bridal suite has excellent artificial and natural lighting, plenty of space for getting ready, and the little kitchenette is adorable! We also loved that there were plenty of beds available, as the flower girls desperately needed a nap on that long day! The fields around the venue were full of sunflowers, which was a huge hit with not only myself, but also with the gusts! The aesthetic was perfect, the employees were incredibly helpful; I'd choose to have my wedding there every time!
Darby Thomas
---
We had my daughter's wedding at The Gin at Hidalgo Falls on 6/13/2020 and it was FABULOUS (even though it was in the middle of a pandemic, COVID 19)!
During the planning process, Laura and Carly were willing to let us pop in as needed when we had planning and layout questions and I cannot tell you how many times they updated the layout on "All Seated" to accommodate the ever changing environment and number of guest regulations due to COVID. That said, we rented the entire venue for Friday night which worked out great for the Saturday wedding. It allowed the wedding party to stay on site and we were able to start all our events for the weekend on time because of that convenience. The cottages are so cute and all the bridesmaids commented on how comfortable the beds were. There were plenty of plugs for all the girls to get ready for rehearsal and the wedding and our hair stylist and make-up artist also had plenty of room to work. The girls, and guys, loved hanging out and it provided time to "chill" before all the festivities began or in between events.
I cannot say enough about how easy Laura and Carly were to work with, especially during this ever changing climate. They were problem solvers and always willing to lift a helping hand, from moving chairs at the last minute to handling issues with guests to helping pick up any trash that may have been left behind due to decorating.
If you are looking for something different, something out of the ordinary, something that isn't a barn, a place that is relaxing and away from the hustle and bustle of the city, this is your place.
Pictures courtesy of Patricia Perez, Timeless Capture
Rhonda Brock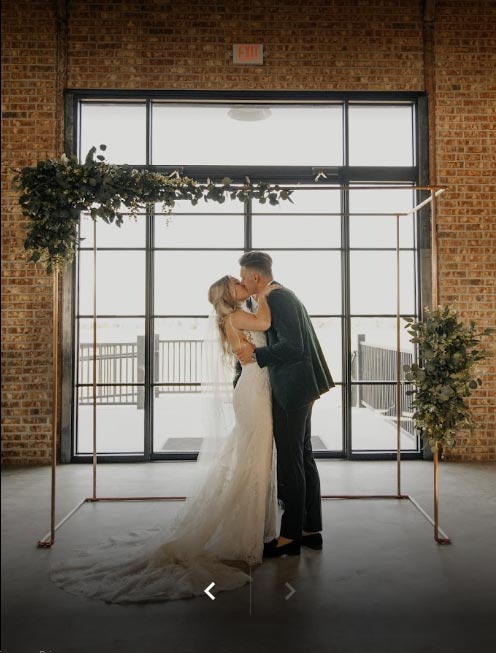 ---
This venue is incredible! My husband and I got married here on July 4, 2019 and it was more than we could have ever imagined. Laura nailed the aesthetic in both the bride's and groom's quarters. There is another cabin attached to the office that is perfect for grandparents and others to get ready during the day. We love the history behind the Gin and the fact that Laura repurposed it into a wedding venue. Our guests have done nothing but raved about how gorgeous the venue was. If you're looking for a quiet, industrial (but still soft and feminine) venue, this place is PERFECT.
Morgan Aragon
---
This venue is absolutely spectacular, and definitely one-of-a-kind. You can tell how much thought, labor and love went into this wedding venue. I love that it is family owned, the history of the venue itself and the land that surrounds it. If you are looking for your a unique venue to call "home" on your wedding day, this is it! So excited to see all the beautiful memories created in this space!
Heather Johnson
---